Owner of 'Fred the Service Dog' plans to take legal action after his death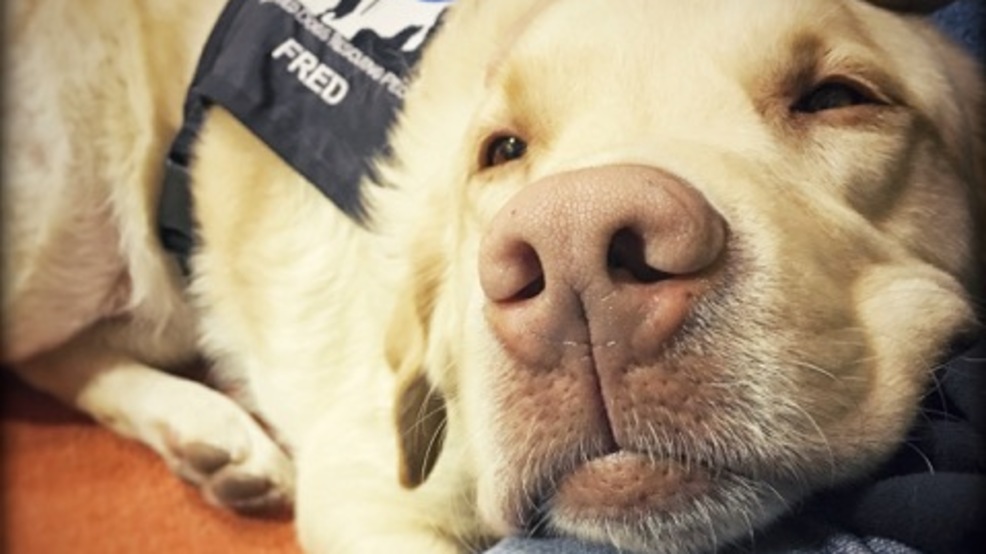 BAKERSFIELD, Calif. (KBAK/KBFX) —
A local dog owner said she will be taking legal action after her Labrador died on Saturday in the care of a boarding facility in Agua Dulce, near Palmdale.
Liz Kover raised Fred and trained him to be a service and therapy dog. He was the face of Marley's Mutts Miracle Mutts and beloved by many in the community.
"He made everyone feel special and loved," she said.
Kover said Fred was staying at Sunny Day Acres when she was out of town.
"I chose someone that I trusted, who I have friends that work with this woman," Kover said. "I dropped him off perfectly healthy, a happy strong dog, a young dog, at this place, and then three days later he was on death's door."
Kover claimed negligence led to the dogs death.

"It's not my intention to drag her through the mud. I think the situation speaks for itself," Kover said.
"The vets came to the conclusion that this was severe heat stroke," Kover said. "The vet said he came in with 109 degree temperature, which the vets were amazed he even survived the night."
Kover said there is still a lot of mystery of what led to the heat stroke. She said she is having a necropsy, similar to an autopsy, done to confirm Fred's cause of death.
She said the facility should have known the signs of heat stress and taken him to the vet sooner.
"Something went terribly wrong, and she's not owning up to it. Something is not being said," Kover said.
Kover posted on Facebook:
I can barely breathe, or see through tears, so posting is difficult. But I do want to take a moment to say that I am floored by everyone's love and empathy. In one way, Fred was MY dog - undoubtedly - my truest companion and soul creature. He and I always found our way back to each other, as I know we will again and always. However I always knew his gift was far too precious to try and keep for myself. From the day Good Dog Autism Companions director Laura put a ten week-old, butterball Fred baby in my arms, my job was to teach, encourage, and empower him to share his magic with the world. And that he did. Over the last several months, I've treated every moment with Fred as both an eternity of happiness -- and one that might be our last. Part of me knew our earthly joy and happiness together was simply too good to last (on earth, anyway). Both of those perceptions were accurate. Every single instant Fred and I spent together, we spent fully in love, engaged with our beautiful life and friends and family and work and surroundings. Not one minute was taken for granted, and was in fact revered as an eternal blessing. The brief time we had together in this realm was nowhere near enough. Then again, no amount of time ever would've been. I could - and will, as I am able - go on forever about Fred. In the meantime, my heart is utterly destroyed. And I haven't even begun to really process what has happened. I do want to say that the person who was "caring" for Fred in my absence did pay the vet bill. I have to give credit where it is due. I will not slander this person publicly, nor engage in any slanderous commentary. That said, we WILL get #justiceforfred . In time. For now, I am taking comfort in all the love holding Fred and me up in prayer. Thank you all for that. #fred #fredthedog #justiceforfred.
Eyewitness News reached out to Sunny Day Acres for comment, but have not heard back.
The woman who Kover said was watching Fred at the facility took to Facebook to write a statement:
I want to make a statement on what happened with Liz's dog Fred as I'm deeply devastated about what happened. I was watching her dog as we were friends and she entrusted him to no one else why she was going out of state. I've let her and Fred down more than imaginable. However, Fred was not neglected or left out in the heat ever. He was indoors in air conditioning with water. He came in on antibiotics Monday night. He only went outside mornings and evenings. He was notably increasingly stressed the longer Liz was away. But he was eating and drinking. He was having accidents in the house, but as I changed his schedule and he was stressed, this didn't call for medical attention. Thursday morning, he went out for 15 minutes in my yard supervised. He came back in and drank a full bowl of water, urinated, started to lap at his urine, I cleaned it up, and gave him another full bowl of water. Mid-day, he had not touched his water or food, but again not unusual for a dog under stress. However, when going to take him out in the evening, he had still not drank or eaten and his back legs weren't walking right. I rushed him to the Vet immediately. This was Thursday night. He passed away yesterday. I hurt for Liz deeply and I can never make this right. I love dogs more than anyone I know and I would never neglect an animal.
Kover said the facility did pay for the vet bill.
A GoFundMe page was created by Kover's friends to help pay for legal fees.
Kover said she hopes taking legal action will prevent this from happening again. Kover also said some of the money will go towards giving her some "cushion room" as she figures out what's next.
"It's not enough, just an apology, even if it was heartfelt, it's not enough, because other dogs are in her care," Kover said.
Unmute